Sonoma County is arguably one of the most beautiful destinations in the world, and never more than in autumn. Rolling hills of vineyards drenched in emerald, crimson, purple and gold set against bright blue skies, coupled with pleasant weather, beckon visitors to take in the epic valley views the region is known for. There are few better ways to experience fall in wine country than by taking a stroll through its majestic vineyards.
Read on for vineyards that are magical in fall and welcome visitors to hike, stroll or just take in the colorful vistas for free. You'll want to save your money for Croptober – Doobie Nights' annual sale honoring NorCal's world-famous cannabis harvest season. After all, what better way to enhance the colors of the season than with a little extra elevation to enliven the senses?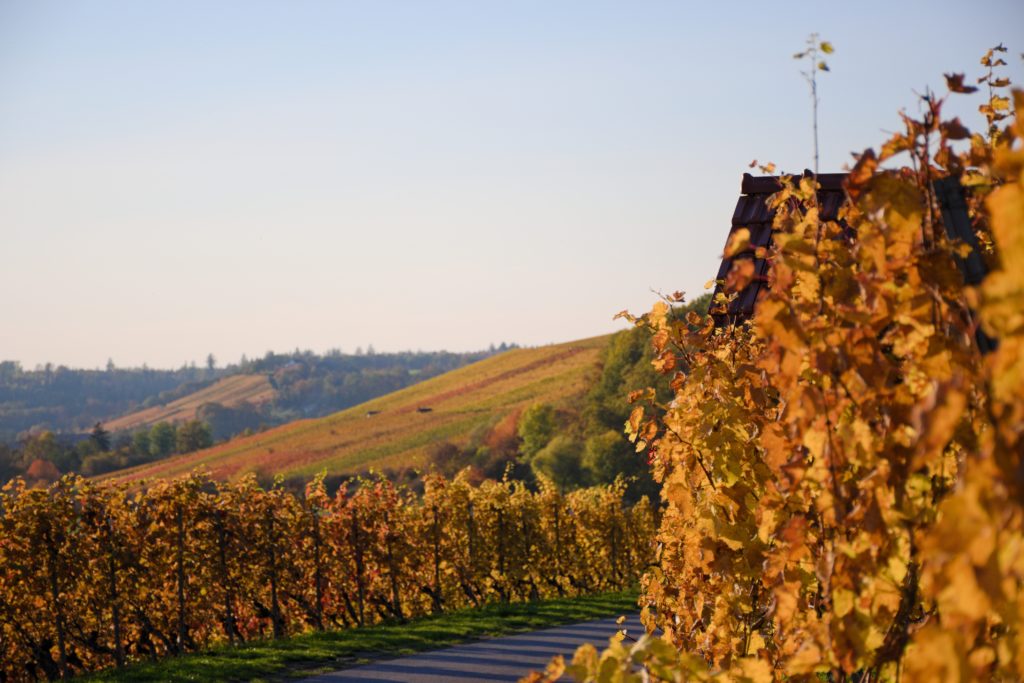 Benziger Family Winery
Located in Glen Ellen adjacent to Jack London State Park, Benziger is a gorgeous place to start. Not only are there endless acres of rolling hills featuring grapevines in a rainbow of autumn colors, but there are lots of options for wine-tasting and the free, self-guided tours allow visitors to meander through the vineyards at their own pace. 
Benziger is one of the few biodynamic vineyards in Sonoma County, offering paid tastings of wine grown both organically and sustainably. And the tasting includes a guided tram tour of the property. But even if you just want to get blazed and take in the gorgeous colors on your own, you are welcome here. 
One of the most enchanting features of visiting vineyards in autumn is that the journey truly is the destination. Simply driving through wine country leads you through some of the most inspiring landscapes the county has to offer. 
The route to Benziger Family Winery – Bennett Valley Road – is one of those drives. This curvy, rural road weaves through sunken vineyards on both sides, with hillsides covered in burgundy, crimson and every shade of shimmering gold as far as the eye can see. 
Francis Ford Coppola Winery
One of the most picturesque vineyards in Sonoma County, Francis Ford Coppola Winery is also one of the most unique locations that offers free, self-guided tours. Here, not only can you take in wide swaths of deep red and sienna vineyard views, visitors can also experience rare movie memorabilia from the Apocalypse Now, The Godfather and Dracula filmmaker's vast collection. 
The vineyard is also a resort with swimming pools for guests and is home to Rustic, the beloved Italian restaurant on the property that welcomes visitors to indulge in authentic cuisine against a backdrop of some of the most sublime views in wine country.
Korbel Champagne Cellars
If you like rose gardens with your vineyard views, take the gorgeous drive along Highway 12 to Korbel Champagne Cellars. Located in the Russian River Valley, this property features striking colors in the fields and even gorgeous vines that elegantly climb the edifices. 
Korbel doesn't just offer free, self-guided tours, but also complimentary guided tours and tastings for groups under 20. Satisfy your munchies with a gourmet deli lunch on the decks overlooking the awe-inspiring colors of fall and come back in springtime for seasonal guided tours of their antique rose gardens.
Despite the breathtaking beauty waiting to wow you on your stroll through the Korbel Champagne vineyards, the road that takes you there stuns in its own way. Home to dozens of world-renowned vineyards and wineries, Highway 12 is one of Sonoma Valley's quintessential vineyard drives. It winds through hills and valleys, flanked by wineries on both sides that turn vibrant, deep colors sure to make you swoon.
So, enjoy experiencing fall through the lens of these dreamy Sonoma County vineyards. And stock up on everything you'll need at Doobie Nights to keep cozy and happy the whole season through.