Our first pandemic Valentine's Day is right around the corner. While traditional celebrations like dining out may be curtailed, we don't have to miss out on the most important aspects of the day: getting high and eating rich, decadent chocolate. So whether you're celebrating Valentine's with your boo or Galentine's with your squad, this infused recipe will keep the love and the cannabinoids flowing. 
This infused twist on classic molten lava cake is the perfect V-Day aphrodisiac. With hot, chocolate lava oozing out of the center, it's guaranteed to make more than just your sweetie's heart melt. 
The best thing about this recipe? (Besides the fact that chocolate is a natural aphrodisiac!) You probably have all the ingredients in your pantry right now.  
Just be sure to stop by Doobie Nights for the best aphrodisiac cannabis pairings – or order online and pick up your goodies curbside. Any Diesel strain will have you both riding high on love. And voila! Your plans for a romantic Valentine's night will be solid… (with a warm and gooey center, obvi!)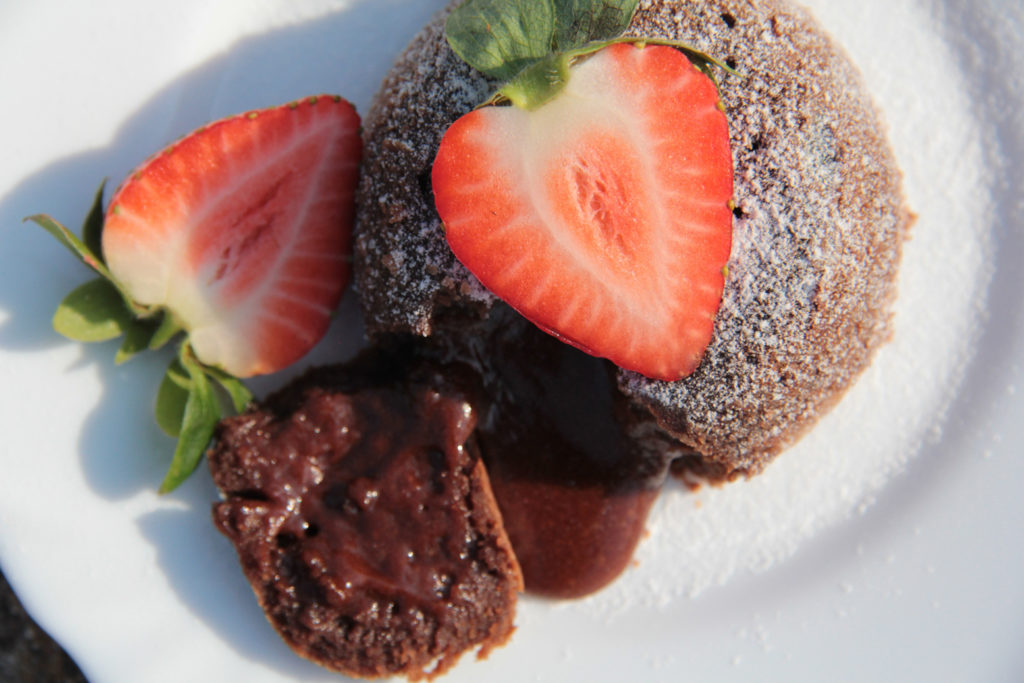 Ingredients:
3 oz. dark chocolate, chopped (bittersweet or semi-sweet chocolate chips also work)

 

4 Tablespoons canna butter (find an easy recipe

here

, or use unsalted butter if you don't want to infuse or if you're adding cannabis in another form)

 

1 large egg, room temperature (achievable by letting the egg sit in a bowl of warm water for a few minutes) 

1 egg yolk, room temperature

 

1/4 cup granulated sugar

 

pinch of fine sea salt

 

2 Tablespoons flour (or substitute 1:1 gluten-free baking flour for an equally delectable gluten-free version – just make sure it contains xanthan gum)

 

whipped cream or ice cream and berries to serve
garnish of mint and chopped nuts, if desired
Directions:
Preheat oven to 420 degrees. (You were expecting…?) Spray 2 4-inch ramekins (with capacity for 6-8 oz) with non-stick spray. Lightly dust with cocoa powder (optional).

Melt the chocolate and combine with butter (see Notes below). Set aside.

 

Add the egg, egg yolk, salt and sugar to a medium bowl. Use a hand mixer to beat on high speed until it thickens slightly.

 

Lower the mixer speed to medium, then pour in 1/2 of the melted chocolate. Turn off the mixer and add the remaining chocolate. Beat on medium until smooth.

 

Add the flour. Mix in with a spatula until just combined.

 

Transfer the batter to the two ramekins. These mota lava cakes literally get baked at 420 for 12-14 minutes. That gives you time to roll a couple joints to enhance the culinary experience. When the cakes are ready, the edges will be set and it will be soft in the middle with a little jiggle.

 

Let cool in the ramekins for 1 minute. Invert onto a dessert plate and let sit for 10-15 seconds before removing the ramekin.

 

Serve immediately with whipped cream or vanilla ice cream, and your choice of berries. We like strawberries or raspberries. Garnish with mint and chopped walnuts, pecans, or pistachios.

 
Serves 2
Notes on how to properly melt chocolate:
The preferred method of melting chocolate is stovetop, but you don't need a double boiler. You can melt chocolate just as effectively using two large pots. 
Fill the first large pot 1/3 of the way with water and bring to a boil over medium-high heat. Fill the second large pot with the chocolate (if you're using a bar, cut it into small pieces first) and place it on top of the first pot. They should fit together so that the top pot rests about 1/2 inch above the boiling water.
Stir the chocolate constantly. As soon as the chocolate starts to melt, remove the pan from the heat.
Add the butter to the chocolate, stirring quickly to allow the chocolate to melt the butter and mix thoroughly before it cools down.
Enjoy your Chocolate Mota Lava Cake and have a Hempy Valentine's Day! Look out for the latest Doobie Deals and Valentine's weekend specials here and keep spreading love (not germs).