Summer is here! That means it's time to find some magical environs to enjoy your high in the great outdoors. Marin County, our neighbor to the south, is located just across the Golden Gate Bridge from San Francisco and just south of Wine Country. It offers an abundance of natural beauty and picturesque hiking trails, along with something San Francisco rarely has: sunshine and warm (but not too hot) weather. With its diverse landscapes and stunning vistas, it's no wonder that many cannabis enthusiasts consider this to be an ideal place to indulge in a little recreation. 
Here are 9 of the best places to light up for a pleasure stroll or a proper hike surrounded by nature in Marin County.
Muir Woods National Monument

If you like redwoods, you'll love Muir Woods. Known for its old-growth redwood trees, the park offers several well-maintained trails, ranging from easy strolls to more challenging hikes. Grab a hoodie, your bestie, and your stash, and come immerse yourself in the peaceful serenity of the ancient forest.

Point Reyes National Seashore:

This coastal area boasts over 150 miles of trails, showcasing stunning vistas of rugged cliffs, sandy beaches, and rolling hills. The Tomales Point Trail, leading to a dramatic headland overlooking the ocean, is humbling in its majesty. Keep an eye out for wildlife, as Point Reyes is home to Tule elk, seabirds, and gray whales during migration season. Just don't let it also become home to your roaches. Light up responsibly and leave no trace.

Mount Tamalpais State Park:

With its panoramic vistas and diverse ecosystems, Mount Tamalpais, or "Mt. Tam," as locals call it, is a hiker's paradise, full of magnificent views for you to take in as you toke up. The Dipsea-Steep Ravine-Matt Davis loop is a challenging but beautiful hike that takes you through towering redwoods, cascading waterfalls, and stunning views of the Bay Area. Reward yourself with your favorite stash at the end. And, if you're blazing a sativa, you might as well hit a little at the start for the kind of giggly energy that will propel you through even the toughest parts of the trail.

Marin Headlands:

Just across the Golden Gate Bridge lies the Marin Headlands, a rugged peninsula with breathtaking vistas of the Pacific Ocean. The Coastal Trail offers a variety of routes, allowing you to explore the area's diverse landscapes, including chaparral-covered hills, hidden coves, and historic military sites. The natural beauty of this place is enough on its own to get you high.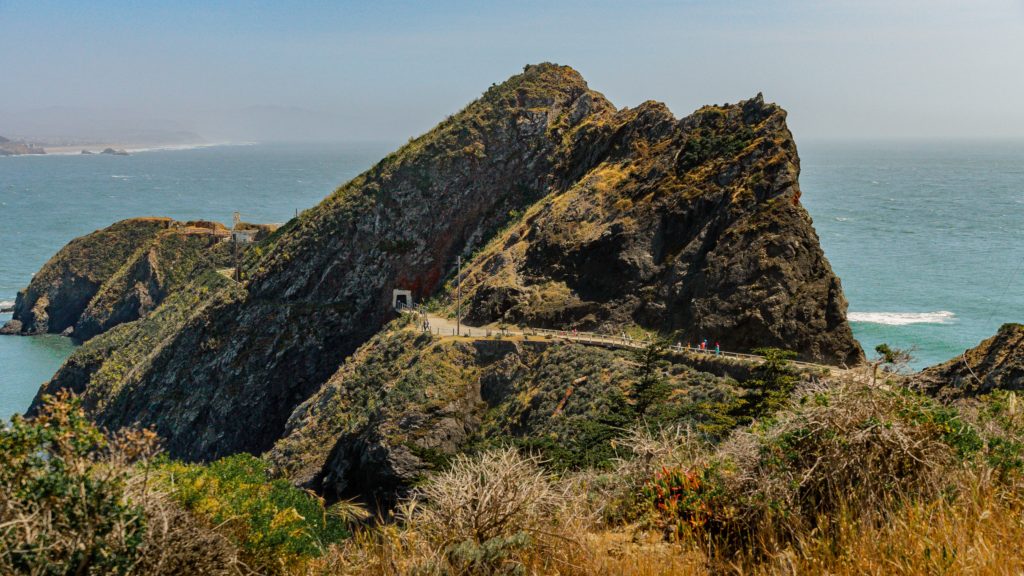 China Camp State Park:

Nestled along the shores of San Pablo Bay, China Camp State Park is a hidden gem for hikers. With over 15 miles of trails, you can wander through oak woodlands, wetlands, and scenic ridges. The Bay View Trail rewards hikers – and highkers – with panoramic views of the bay and the San Francisco skyline.
Marinwood Open Space:

This serene open space offers a network of trails winding through oak woodlands and dreamy meadows where you can not only relax on the grass, but on some really good grass from your friends at Doobie Nights. There are also many secluded spots along the trails perfect for a toke break. 
Mount Burdell Open Space Preserve:

With its rolling hills and panoramic views of the North Bay, Mount Burdell is a popular hiking destination for good reason. There are numerous trails to explore, providing opportunities to find a peaceful spot to lay low and get high while you take in the natural beauty.
Ring Mountain Open Space Preserve:

Known for its unique rock formations and vibrant wildflower displays, Ring Mountain is lovely and idyllic. Make those wildflowers and the colors of nature come alive with a hit off your favorite strain and immerse yourself in the tranquil ambiance as you wind through the various trails.
Tennessee Valley Trail:

This coastal trail takes you through breathtaking landscapes, including coastal scrub, wetlands, and a beautiful beach. There are multiple discreet areas along the trail to appreciate the scenery and enjoy your joint responsibly.
Remember, there aren't many public places where it's actually legal to consume cannabis, including state parks, so be discreet, tread lightly, leave no trace, and be mindful of fire danger if you choose to combust your stash. Enjoy getting high in nature responsibly this summer.