Welcome back to the most wonderful time of the year: 4/20, aka Christmas – or at least Black Friday – for potheads. This year, cannabis enthusiasts in Sonoma County don't have to go far to find fun ways to celebrate. 
The North Bay Area is more than just home to some of the very best cannabis on Earth. It's also the birthplace of 420. 
According to the most widely accepted origin story, 4:20 p.m. was the time a group of teens at San Rafael High School in Marin County used to meet up to get high. The group, which called themselves the "Waldos," chose this time because it was in that magical space of freedom between school letting out and their parents coming home from work.
Soon, 420 became their code for cannabis, and they'd use the term anytime they wanted to meet up and blaze. It caught on not just with their friends, but with other pot enthusiasts in the area. Now 420 is a cultural phenomenon recognized and celebrated by people all over the world.
It is fitting, then, that the North Bay would have some solid options for anyone looking to celebrate cannabis on 4/20. Whether you want to eat, drink, or be "Mary," Sonoma County has something for everyone.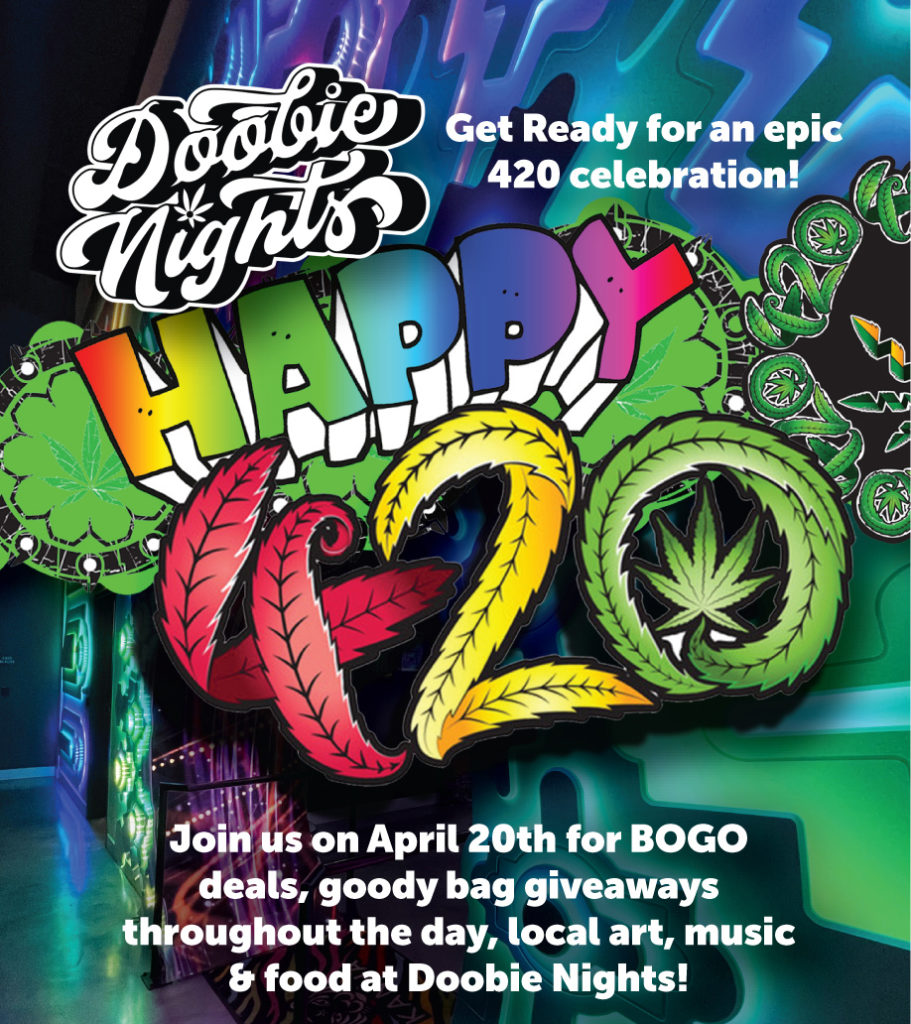 420 Daze with Doobie Nights
Start your day off right with us at Doobie Nights. Wake and bake and pull up to celebrate all day with music, munchies, trippy art, sweet BOGO deals, and random swag bag giveaways chock-full of pot products to keep you in the clouds. Deals start at 9 a.m., and they're so good, you'll want to stock up. DJs start at 4 p.m., delicious food will be available 11 a.m. – 5 p.m., and the party goes until 9 p.m. But with DoobieFam, it's not just about consumption. Give back by writing letters to prisoners incarcerated for cannabis in conjunction with the Last Prisoner Project and let your 4/20 celebration brighten someone else's day. Come by and say high! 9 a.m. – 9 p.m. More info here. 
Reggae Music at Hop Monk in Sebastopol 
After you've stocked up on Doobie deals, head out to enjoy your high with some music at HopMonk in Sebastopol. The 4/20 concert features San Francisco's reggae band, Iriefuse, along with Clear Conscience, a group that blends reggae, rock, and hip-hop, and NorCal's rock/reggae outfit, SoulShake. Doors open at 7 p.m. Show starts at 8 p.m. More info here. 
High Quality Comedy
Looking to LOL? If comedy is more your flow, check out Santa Rosa's (very) High Quality Comedy show in honor of 4/20. Comedians will deliver their jokes, take a toke break, then get back on stage and try doing those jokes again, totally blasted. Highlarity will ensue! Expect goodies for the audience brought by some special guests, as well. Show starts at 7:30 p.m. Cannadel, 4036 Montgomery Drive. Tickets: $20. Get tickets here. 
As for the Waldos, they're still meeting up for their 4:20 toke. This time, they plan to convene at Lagunitas Brewery in Petaluma, where the Waldo's Special Ale, brewed annually just for 4/20, is named after the group. Allegedly, it tastes "dank." 
Whatever you decide, get high responsibly and enjoy every minute of our holiest of high holydaze!