Just 40 miles north of San Francisco, Sonoma County is one of the most scenic regions not just in California, but arguably the world. With stunning, rugged coastlines, spectacular vineyards, and towering, ancient redwood trees, it's almost hard to find a place in Sonoma that's not breathtakingly beautiful. And who doesn't want an epic backdrop for a sweet sesh? Next time you're looking for some legendary views to match your legendary high, look no further than this list for vistas you won't want to puff-puff-pass up. 
Bodega Head
There's nothing quite like getting high while you're literally elevated. With epic rock formations hewn by sand and waves, unbeatable sunsets and wildlife galore, Bodega Head, the rocky headland that forms the entrance to Bodega Harbor, features some of the most stellar vistas in Sonoma County.
The fairly easy Bodega Head Trail (1 mi.) loops around the southern end of the peninsula and rewards wanderers with awe-inspiring, bluff-top views of the ocean. At certain times of year, you might see migrating gray whales, technicolor wildflowers and seals sunning themselves on the rocks.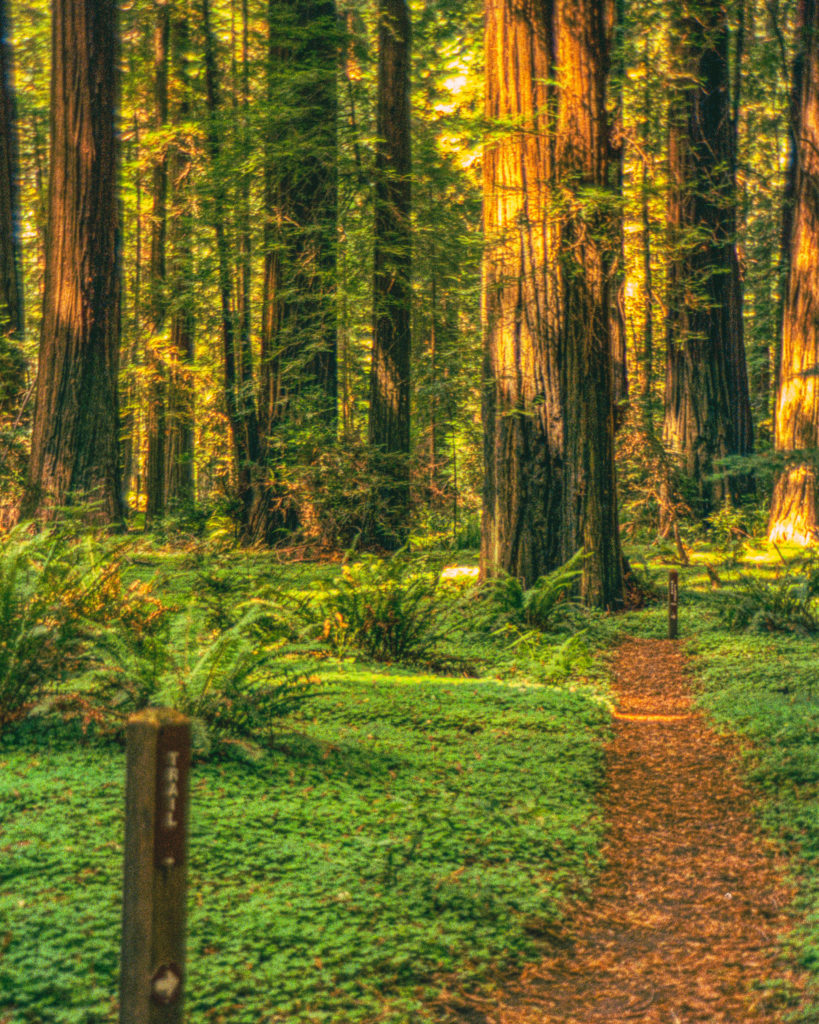 Armstrong Redwoods
For anyone who favors being high on trees while you're in the trees, head to Armstrong Redwoods. You'll find ancient giants more than 1400 years old, some so big you can actually be high inside them. For a chill stroll, take the Grove Loop Trail, an easy hike about 1.5 miles long that takes about 45 minutes.
Although you'll see ample reminders that this park was damaged in the 2020 Walbridge Fire, it's worth reiterating that Sonoma parks in summer are not ideal for open flame. Please don't bring any cannabis that requires lighting up to enjoy. Read more about adventuring in Armstrong Redwoods in our next post.
Paradise Ridge Winery Sculpture Garden
Sonoma County is well known for its world-class vineyards and Michelin-rated restaurants. But what's less known is that Sonoma is home to vast amounts of Burning Man art. Some of the most iconic art ever to grace the playa has been created here, including most of the temples. And some of it returns after its stint on the playa and ends up on display at Paradise Ridge Winery.
Located in the vineyard village of Kenwood, Paradise Ridge Winery is home to a surreal sculpture garden spread across a four-acre grove. It currently hosts an earlier version of last year's temple project – the Empyrean Temple by Michael Garlington – among 20-30 other rotating and permanent works of art from Burning Man and beyond. It's free to go on an art walk in the garden. Expect to pay a fee if you want to do some wine-tasting. 
Sugarloaf Ridge State Park 
Fancy an enchanting hike with views for days, surrounded by wildflower meadows and flowing waterfalls in season, often with low-lying fog you can exhale your own tasty clouds into? Grab your stash and your squad and head to Sugarloaf Ridge State Park in Santa Rosa. On clear days, you can see all the way to San Francisco, Napa Valley, Mt. St Helena and the Sierras. With 25 miles of trails through canyons and gorges and a wide variety of butterflies that flutter by, you'll be glad you got high to wander and wonder in awe. 
Goat Rock Beach
If you're looking for an easily accessible sandy beach, Goat Rock Beach, nestled between the Russian River and the Pacific Ocean, is a glorious option. Located in the idyllic town of Jenner, it's a nature lover's paradise where sea gulls fly, sea lions bark and adorable sea otters hold hands. It's a safer beach compared to surrounding areas that often have dangerous rogue waves, but still not safe enough to swim in. 
It's not uncommon to see seals and sea lions at the mouth of the river. If you do, stay 50 yards away for their safety. For this reason, dogs are not allowed on Goat Rock Beach (but they are welcome at Blind Beach, about a quarter mile south).
Know Before You Go:
In many locations in Sonoma County, including Paradise Ridge Winery, Armstrong Redwoods and Sugarloaf Ridge, you will see evidence of fire damage from the devastating 2017 and 2020 fires. Please remember that Sonoma County is under constant threat of fire, so unless you're on the beach, leave your combustibles at home. Load your vape pen or nibble on some edibles instead. Please respect nature and get high responsibly. 
Also, remember that despite recreational cannabis being legal in the state, it's still illegal to consume in public places – that includes nearly every location on this list. And it is most certainly not sanctioned at Paradise Ridge Winery. So be discreet (getting high before exiting your car is a good option) and stay respectful of the privilege to even step foot on these exquisite lands.