This Valentine's Day, we at Doobie Nights are making it easy for you to fall in love with the world's most perfect couple: chocolate + strawberry. Introducing a decadent dessert that won't interfere with your New Year's resolutions. Tease your lover – or your lovely self – with this sumptuous V-Day recipe that's as healthy as it is delicious.
Chocolate strawberry parfait is the perfect Valentine's treat. With sliced strawberries that look like blood-red hearts, granola that tastes like cinnamon cookies, and whipped cream that mimics the clouds you'll want to hold hands and gaze upon, this dessert is the visual representation of being in love.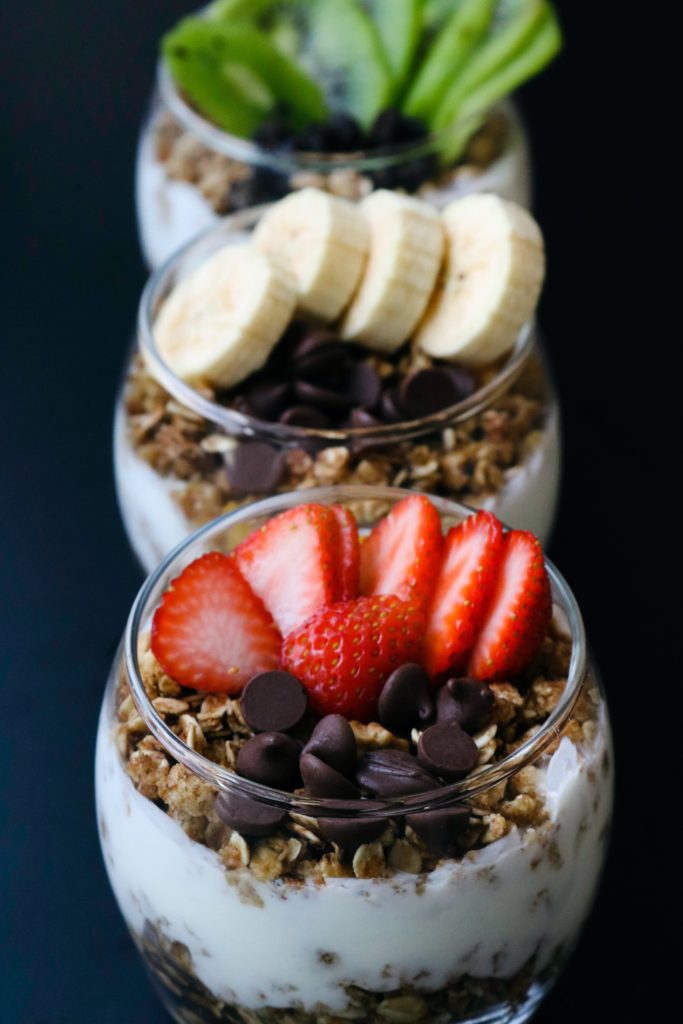 It is so supremely divine, you'll never guess that it's made with no added sugar and one of the world's healthiest fruits – avocado! But trust us, you can't taste it at all, and it gives the chocolate pudding its dreamy, creamy consistency that's positively to live for. This recipe can easily be made vegan and gluten-free, but your sweetie will never know it because it tastes yummy and naughty af. And the only equipment you'll need is a food processor (or blender, Vitamix, or handheld mixer).
The perfect parfait is all about layers. So, grab two of your prettiest wine glasses and get ready to stack chocolate pudding, strawberry filling, and granola underneath a fluffy cloud of whipped cream.
PARFAIT RECIPE
Strawberry filling: 
12 oz frozen strawberries with

¾ cup soaked cashews (raw, not roasted)

¼ cup maple syrup
Combine in food processor, then blend until smooth. Set aside.
2 medium ripe avocados (chopped)

⅓ cup unsweetened cocoa powder

¼ cup sweetener of choice (more or less, to taste. We used pure maple syrup, but honey, agave nectar, or whatever liquid sweetener you prefer will work fine)

½ cup of dairy-free milk (Chobani vanilla oat milk tastes amazing in this recipe but comes slightly sweetened; you may want to decrease your added sweetener if you go with this option. Traditional cow milk is also fine.)

1 ½ teaspoon vanilla extract (there are gluten-free options available)
Combine all ingredients in a food processor and blend until smooth. 
Garnish:
6 fresh strawberries

Granola
Dark chocolate chips or cacao nibs
For granola, we like KIND Cinnamon Oat Clusters. For whipped cream, we used Truwhip Vegan whipped topping. But any granola or whipped cream you prefer will be delicious.
Slice the fresh strawberries thinly and arrange them around the bottom of the glass facing outward. 
Pour the chocolate filling into a wine glass (or any short, attractive glass you have on hand), followed by granola, then strawberry filling and more granola and chocolate chips. If you're really feeling the love, add a final layer of chocolate pudding on top. Add a dollop of whipped cream and your Valentine's Day dessert is ready to be served!
Best enjoyed after toking on a heady hybrid with a nice body high. Be sure to select something from the "happy" category on the menu and let the love flow and your heart glow all night.