Being part of the Doobie Fam means we care about your experience at Doobie Nights and will do our best to keep you coming back to see us. Your continued support is what keeps our doors open, our shelves full of quality products to try and our store filled with magic, color and light. 
And so to show you how much your support means to us, we are thrilled to announce Doobie Dividends – our loyalty program. If you have ever made a purchase at Doobie Nights thru our website or by signing up with your phone number in the store and opting in, you may already be enrolled and have a point balance!
Now you can redeem the points you earn from purchases made at Doobie Nights on discounts, merch and other exciting loyalty perks! Here's how it works…
For every dollar you spend on product purchases at Doobie Nights, you will earn 1 point in Doobie Dividends. Once you reach one of the point thresholds listed below, you'll see what you can redeem points for in your Wallet. You can either redeem points as you reach each level, or keep stockpiling them to save up for more valuable rewards. 
But don't wait too long to cash into those dividends – points will expire at the end of each calendar year, or if you haven't visited the store in over 6 months (don't worry, we'll send you a reminder before they expire so you won't miss your chance). 
Please ask your budtender if you have any questions about using Doobie Dividends. You can login to check your points and the rewards available to you here.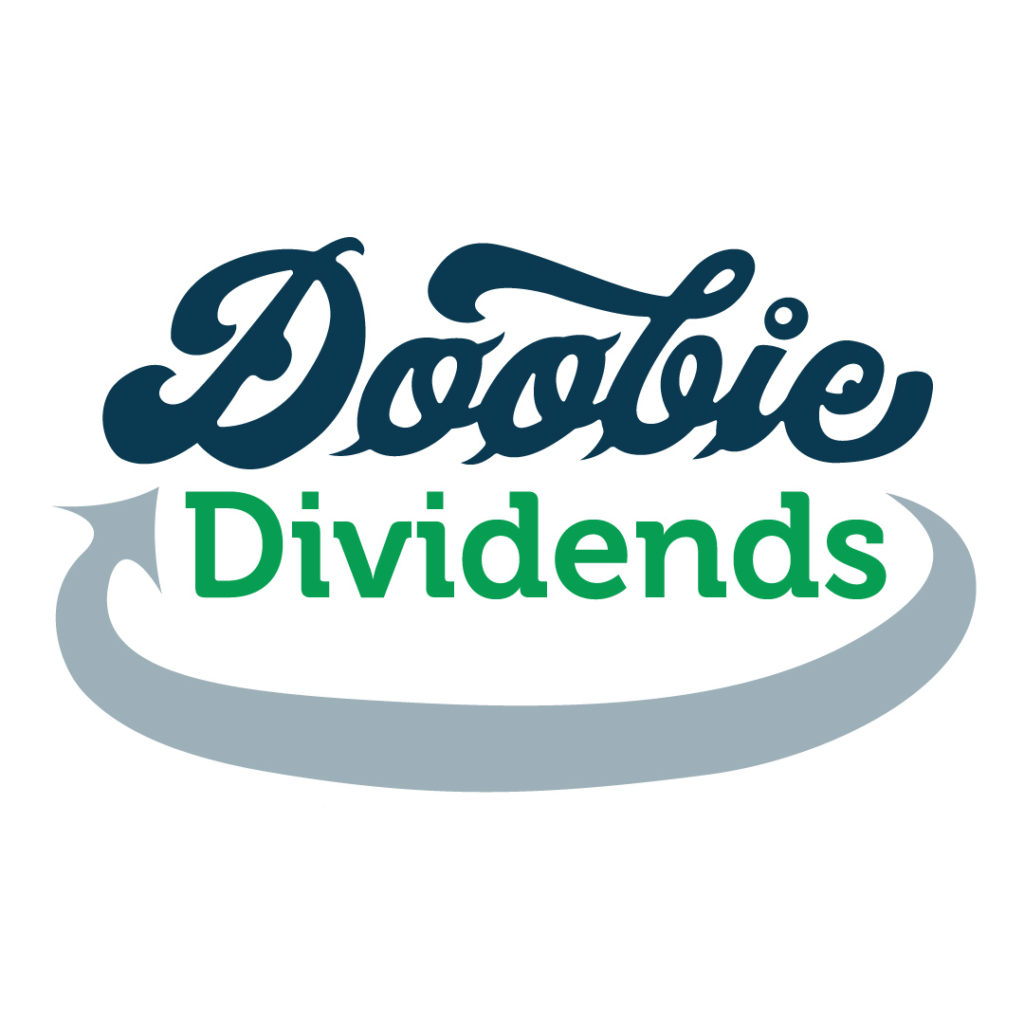 Benefits of Membership & Reward Levels
Members who share their birthday in their account will receive a super special deal via text to help them celebrate. Everyone who signs will receive occasional text messages about special promotions, discounts and events at Doobie Nights to get the inside scoop right in their pockets! 
We're also able to reward Doobie Dividends members for referring their friends to shop with us. Once you're signed up, you can find your custom referral link in your Doobie Dividends wallet. When friends follow your link to sign up and then shop, they'll get a discount on their first purchase and you'll get 250 points, equivalent to our first rewards level – a doobie for a penny! The more you spread the love, the more we hook it up.
Learn more about the levels and how the program works on this intro page.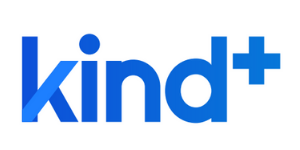 Kind+ Offers Even More Benefits to Members
If you're a frequent flyer here at Doobie Nights, you may be interested in some new perks available to everyone who's part of our loyalty program. We are partnering with Kind+ to offer a subscription service for frequent visitors. You get $15 off your first order after joining, and 5% off every order with us, plus we'll be sending special offers, early access and more perks to Kind+ members. It's easy to opt in – just place an order on our website and enter your phone number, and in the Rewards section of your checkout screen you should see an option to join Kind+ and get 5% off. We'll also have a QR code on signage & screens in-store. You must already be signed up for Doobie Dividends to participate. We're always looking for new ways to stoke out our Doobie Dividends members, so we thought Kind+ sounded like a WIN-WIN!
Rules & Guidelines
To opt in or log in to your Doobie Dividends wallet, sign up here:

https://enrollnow.vip/login/2701

You will earn 1 point for every dollar spent at Doobie Nights (calculated based on the total after taxes) and points will be removed from your account as you redeem them for offers at each reward level you reach.

As you spend more at our store, you'll start earning more than 1 point per dollar spent, see Member Milestones above.

Points expire at the end of each calendar year, so go ahead and get yourself something nice for the holidays, you deserve it! We'll send you reminders to let you know when we're about to reset points.

Opting into Doobie Dividends means you opt in to receiving occasional text messages from us (usually no more than once per week, and never at obnoxious hours). This means you'll get the head's up about specials, deals, discounts and events, but it doesn't mean we'll annoy and spam you.

Opting out of text messages can be done easily via reply to any text. But opting out will also mean you won't be able to participate in the rewards program or stay in the know about specials. 
Redeeming Your Rewards
You can see what offers are available to redeem in your SpringBig Wallet by logging in here. There's usually at least one discount and a merch item at each rewards level, but keep an eye out for bonus items and surprise goodies like invitations to our Customer Appreciation Party each year.

You can redeem an offer with any purchase at Doobie Nights. You must make a purchase for us to be able to ring up the reward. If you are redeeming a discount, make sure you show it to your budtender before they finish ringing you up. You can also find and redeem your awards in the cart if you're ordering online.

To redeem an offer, make sure you're in the store and with a budtender before clicking on it in your wallet. Show it to your budtender prior to being rung up, and they will find the corresponding offer in our POS system to attach to your order.

Once you click on the offer in store or redeem it in your cart online, it will be removed from your wallet, so make sure you're ready to redeem it before clicking.

Ca-ching! You've earned a reward – thanks for being part of Doobie Dividends. Keep earning for new rewards.
Getting to know your Wallet
Below are some infographics from Springbig, our loyalty plan provider, to help you find your way around the wallet and adding shortcuts to your phone. Access your wallet by logging in.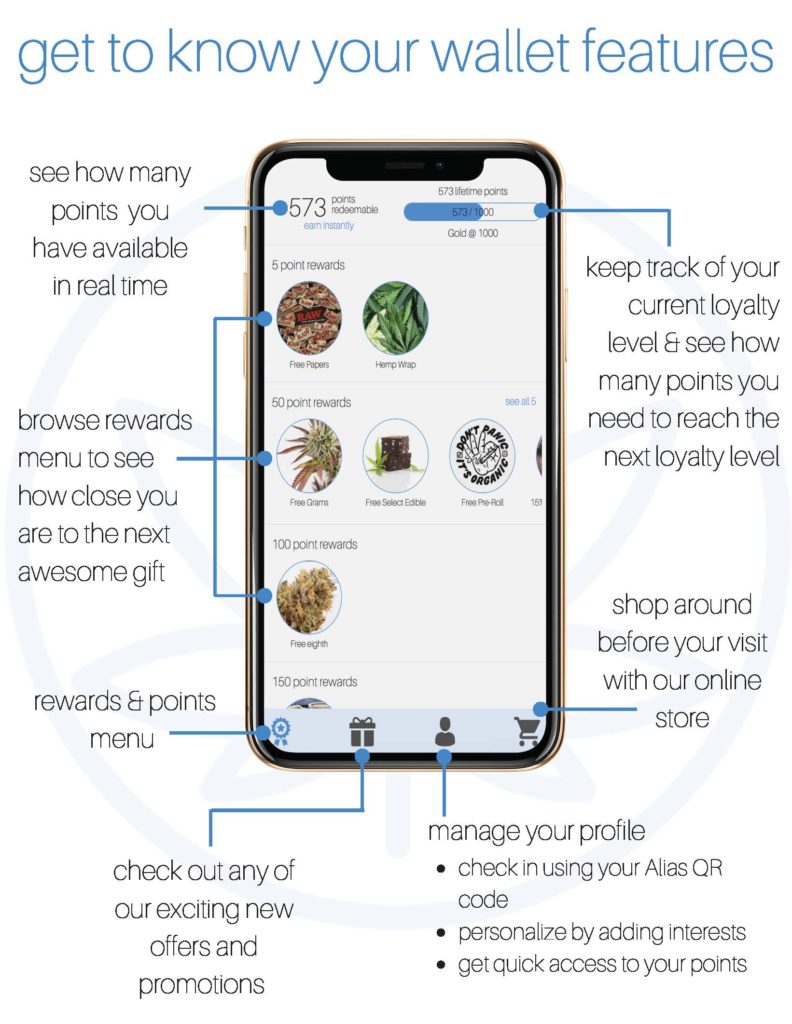 Here's how to save your Doobie Dividends Wallet shortcut to your phone's home screen for easy access when you come into the store: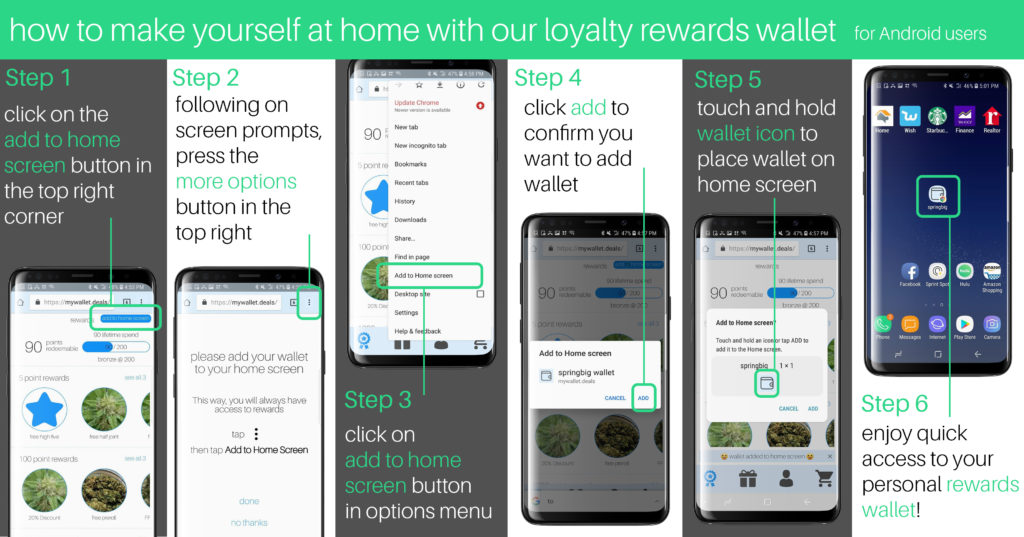 Please ask our team if you have any questions or notice an issue with your account. SpringBig is always updating and adding new features so we do our best to keep up, but we can certainly reach out for help with anything we don't know how to fix and get it figured out for you!
Happy shopping and Doobie Dividends earning, Doobie Fam! See you soon.